Dental Implants
When it comes to replacing missing teeth, there are a few different options you can consider (also depending on your health).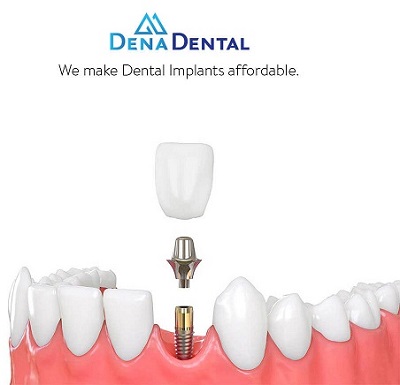 Dental Implants in North York is one of the options to replace missing teeth. For most people, it's a preferred option as dental implants are permanent and dont have extra maintenance costs associated with them. They also look and feel just like real teeth.
Choosing a dentist for dental implants in North York
Choosing the right dentist for your dental implant procedure is very important. Depending on the complexity of your case, you should look for a dentist with experience performing similar implant surgeries.
Dr. Shamaei at Dena Dental has has 30 years of experience in dentistry with over 2000 successful dental implant placements. He offers Free initial Consultations for dental implants, so you can ask your questions directly and get the information you need to make a decision.
Titanium Dental Implants

We use Titanium Implants (Neodent-Straumann Implants) at Dena Dental. Titanium implants have been in use for a very long time and they have a high success rate. They are biocompatible and integrate well with the bone and gums. They are strong and last a very long time.
Am I a candidate for Dental Implants?
If you have lost one or more teeth, you might be a candidate for dental implants. You also however need to have a healthy mouth, have sufficient bone for the implant and be in good general health. In a case where a long time has passed since you lost your tooth, you might have bone loss and may need a bone grafting procedure before implant surgery.
Every dental implant case is unique and our dentists offer free consultation so they can let you know if dental implants are a good option for you. Book your free consultation here.